LS Wired Headset No Audio
If you cannot hear any sound or chat from the game, please follow the steps below.
First, please ensure that the volume on the headset is turned all the way up. To do this, ensure that the outer dial on the left earcup to is rotated all the way forward.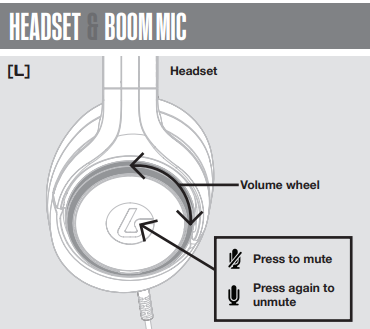 If the volume is turned all the way up, follow the steps below to ensure that your Xbox console and controller are both up to date.
On your Xbox, go into Settings -> System -> Updates and check to see if there is an update for your console.

You can check and update the firmware for your Xbox controller with these easy steps:
Unplug your headset from the controller.
Press the Xbox button on your controller to open the guide.
Under Profile & Systems, select Settings.
Under Devices & Connections, select Accessories.
On the Xbox Wireless Controller screen, select "..." to check your controller's firmware version.
If it says "Update" then follow the steps provided, otherwise your controller is up-to-date.
Once your controller is to date, make sure you restart your Xbox console.